WELCOME TO AHS ALUMNI 2012-13 and WELCOME BACK TO COLT COUNTRY!
Thanks for taking time to visit the Official Web Site for the Arlington High School Alumni Association. This is the place to keep up to date with the news and activities of your Alumni Association. Our "goal" to provide you reunion information - and provide a way to follow the activities of the AHS Classes. We invite you to send us information about your class so that we may share it with the COLT COMMUNITY.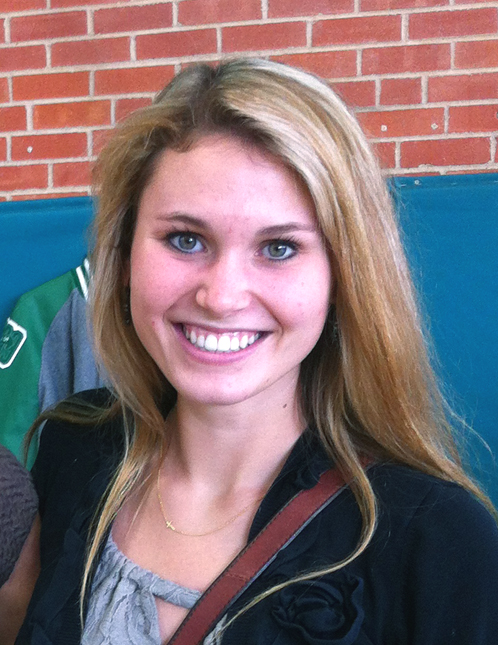 Celeste Campbell
Scholarship
Recipient 2012


Our number one
priority is to fund scholarship gifts to deserving Seniors each May. We also fund grants to Arlington High and its network schools through the Arlington ISD Education Foundation.
Click here to find out more about the history of our scholarship and grant giving. The amount of awards presented to date is impressive, and is made possible by your membership fees and gifts. Donations over and above your membership fees make it possible for us to increase our scholarship giving to AHS. We awarded six (6) $1,000 Scholarships last year!
The PayPal link below may be used to make a scholarship donation over and above your membership dues.
---
ATTENTION AHS ALUMNI

One more thought about donations..!!!
We receive donations for all sorts of reasons ...

1. Scholarship donations to give back to students at AHS
2. Gifts in Memory of a Loved One or a Classmate
3. Arlie's Angels - is simply a gift of a membership for a fellow classmate, or student or grandchild!

Will you help your AHS Alumni Association with a gift today?

SEND CHECKS TO:
AHS Alumni
PO Box 152578


Arlington, TX 76015
LOOK FOR US ON FACEBOOK
Arlington High School Alumni Association


Promote Your Page Too
<![if !vml]><![endif]>
---
Meet the 2013
AHS Alumni Association Board
President – Anna Pettit, '74
Vice-President – Dee Dee Winter, '62
Secretary – Debbie Ericson, '68
Treasurer – Rusty Ward, '69
Membership Chair – Sharron Chapman Merrill, '61
Web Master - Mac Martin, '61
Product Sales - Paul Swartz , '59
& Linda Garner Gipson, '61
Reunions – Doris Collard Whitlock, '59
Communications & Newsletter -
Cathy Bontley Brown, '63
Marketing/PR - Heather McMillen, '90
Special Events - Erin Hawkes Chaney, '64
Scholarship – Jannette Workman, '54
July 4th Parade - Steve East, '62
Distinguished Colts - Jerrell Womble, '71
Archives – Martha Sue Martin Meek, '69
Alumni Band - Tanya Terrell-Weideman, '81
Member-At-Large - Dr. Mike Enger, '74
S
TANDING COMMITTEES
The Colts serving on Standing Committees requires membership in the AHS Alumni Assoc. and a willingness to support the Committee Chair with time and service. They are not required to attend scheduled board meetings. Members include:
Archives - Leslie Cox Recine, '81
Peggy Wood Martin, '66
Membership Committee -
David Bailey, '61 &
Beverely Bush, '61
School Board Liaison - Bowie Hogg, '96
---
MEMBERSHIP
For up to date membership information, please contact:
Sharron Chapman Merrill, '61
AHS Alumni Association
P.O. Box 152578
Arlington, Texas 76015.
ahs_alumni@sbcglobal.net
---
GO COLTS!
MEMBERSHIP ROSTER
ALUMNI NEWSLETTER WINTER - 2013
You may want to review a past edition of the
Newsletter under NEWSLETTER ARCHIVES.
THE CLASS OF '73 IS LOOKING FOR CLASSMATES!
FOR MORE INFORMATION CLICK COLT MESSAGES
---
AHS Mardi Gras Madness (MGM)
has an exciting event coming up this weekend!
SUNDAY - APRIL 28 - 6:30 PM
RIVER LEGACY PARK
LEGACY PAVILION

CLICK BELOW FOR MORE INFORMATION
1st Annual AHS MGM Neon Night Run!
There are lots of opportunities here - to become a sponsor, help get sponsors, volunteer to help at the event, and participate in the 5K/MGM Mile! You can sign-up for the event at or go to the AHS PTA website for more information (www.arlingtonhspta.txpta.org). This is MGM's last big fundraiser to support the AHS after-prom party so please share this info with all your peeps!

THE AHS PTA THANKS YOU!
---
OPEN HOUSE
SATURDAY - JUNE 22, 2013
10:00 AM
Join us Saturday, June 22, in the New AHS Cafateria - which faces Park Row and the new AHS Marquee. This will be the first Alumni Event to be held in the new cafeteria space. After the Open House program you will have time to tour some of the new classrooms also added during this new addition to Arlington High School.
Also currently under construction is a new landscape design for the front of our school. New side walks, casual seating and plantings.
All of this should be finished in time for our annual Open House. See you there!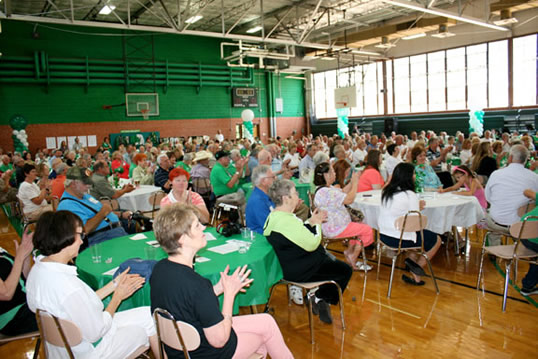 A few of the folks attending the 2012 Open House
last summer - 6.12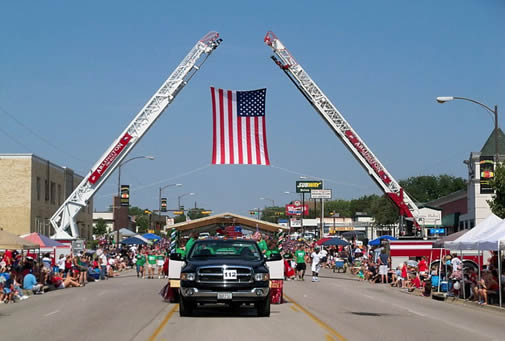 We are proud of the AHS ALUMNI BAND - shown here in the 2011 edition of Arlington's July 4th Parade.
For information about joining the ALUMNI BAND please click
AHS COLTS ALUMNI BAND
---
IF YOU LIVE IN ARLINGTON - YOU SHOULD
DRIVE BY AHS TO SEE THE NEW
CAFETERIA ENTRANCE AND THE NEW MARQUEE!!
The Arlington High PTA, community sponsors - your Alumni Association along with donations from the company that constructed the new cafeteria have completed work on both projects. Thanks to everyone that donated!


---
<![if !supportEmptyParas]><![endif]>

With thanks to the Arlington Preservation Foundation - the site of "old" AHS on Cooper Street has a new Historical Plaque and Marker.

---
TIME TO RENEW!
It's never too late to join the AHS Alumni Assoc. or to renew your membership.
---
DCA
DISTINGUISHED COLT ALUMNI
Click here to learn more about this prestigious award
---
REUNION UPDATES
Check here for the latest Class Reunion News. Please send us any updates from your class and we will make sure your information is listed.
---
MERCHANDISE - Visit our Merchandise Page for Alumni wearables!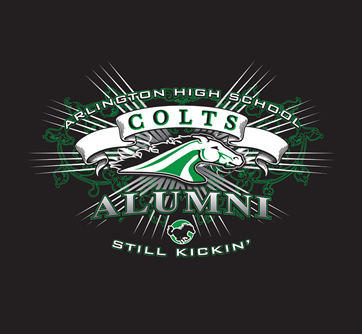 New Design for Alumni Tee-Shirt!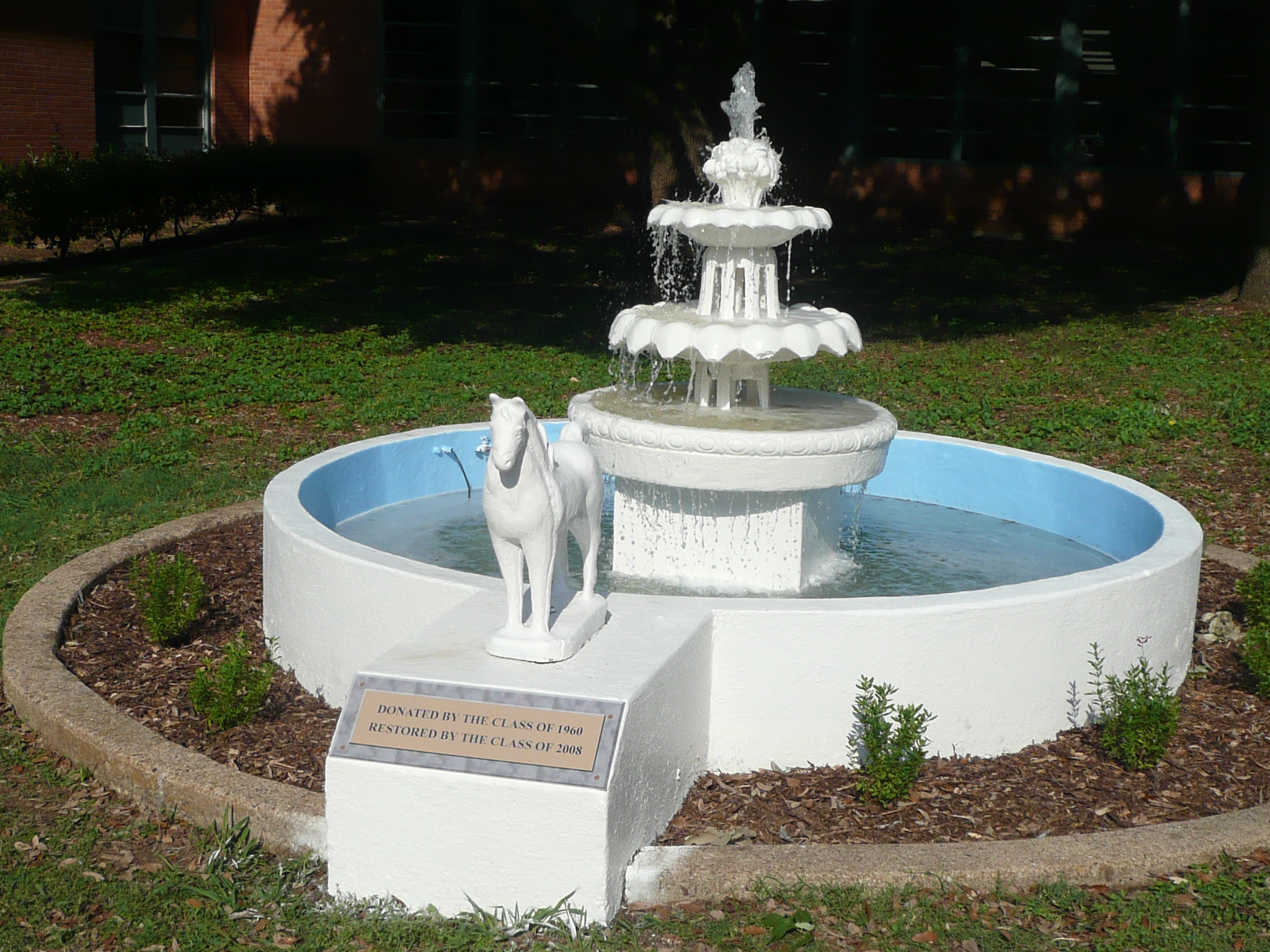 Presented to AHS by the Class of 1960 the gleaming white fountain in the cafeteria courtyard has been completely restored by the Class of 2008.
Thank You Colts!